Group Recreational Programs for Long-Term Care and Assisted Living Facilities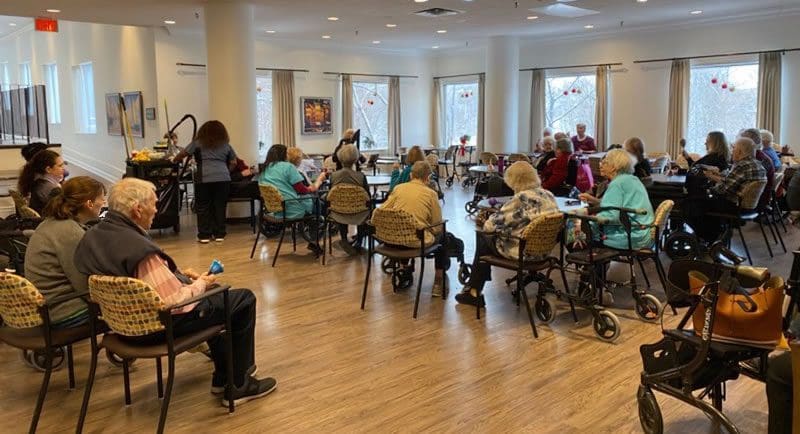 Recreational Program
The harpist will provide an, all-inclusive, musical program filled with harp, singing, the use of rhythm instruments and bells, chair dancing to Mozart, and familiar tunes.
This interactive hour has been extremely successful on all levels and can be accommodated to any size group.
Benefits
Communication
Teamwork
Focus & Concentration
Confidence
Listening
Cognitive Stimulation
Social Interaction
Memory
Emotional Expression
Motor Skills
Global News "Making a Difference", by Susan Hay
Harp Therapy at Toronto Grace Hospital
Sound Bath & Guided Imagery
MacKay Centre, Goderich:
Register with the centre.
Trinity St. James Church, Parish Hall, Bayfield:
Sept. 21, 3:00-4:00
Oct. 19 , 3:00-4:00
Register and pay by e transfer harpheals@gmail.com. $20.00 per session or $30.00 for both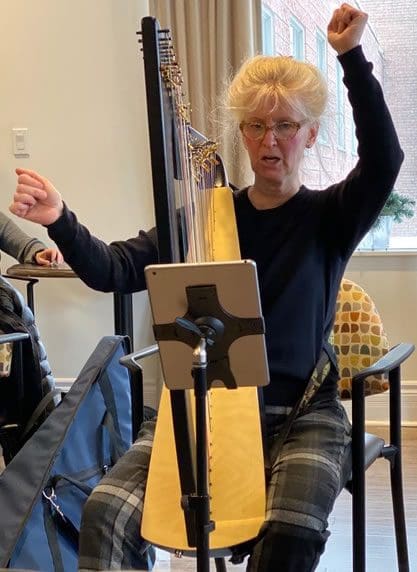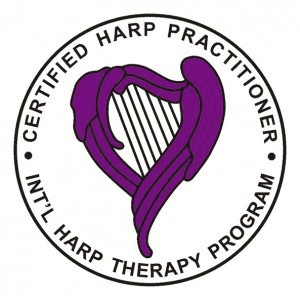 Harp Therapy, as a complementary care modality, can bring a special intimacy to the sacred experience of dying and through transition.
I had never seen the work of a harp therapist and the impact it can have on agitated clients. I witnessed, first hand, how she was able to effortlessly calm down and refocus my agitated client who suffered from Alzheimer's-just by playing her harp!
I will never forget the change in my client's behavior and her mood. I saw her smile and move her body as she listened to the music! It was beautiful! The melodic sounds from the Martha's harp literally transformed my client from severe emotional discomfort and distress to a state of relaxation and happiness. Martha's strong belief, commitment and expertise on the harp can help people improve their mood.
My patient was totally engaged and either hummed or sang along, demonstrating the therapeutic effectiveness of the harp and the practitioner. Most importantly, I witnessed this positive outcome with my client. I have recommended Martha to other clients that suffer from mental health and cognitive problems!! 
Zoe Levitt, M.S.W., R.S.W.
Martha plays for our residents once a week and it's a time that they all look forward to.
Martha is clearly a talented harpist but she has many other strengths as well- she's very friendly and engaging and she is great at getting the residents involved.
Her creativity is shown in her well thought out programs; in one instance she can put residents at ease with her classical pieces and another instance she is getting them to move and shake to upbeat sing a longs songs. She is a joy and an asset to our facility.
Faith E. and Rachel S., Recreation assistants
Martha is an amazing harp teacher. I began harp lessons with her in early 2020 (just prior to the pandemic). As a beginner adult harpist and someone with little childhood music training, Martha's focus and skill in teaching technique and the fundamentals, as well as her encouraging style have provided me with the perfect blend of instruction to help me learn and grow as a harpist.
I love that in addition to being a musician and harp teacher, Martha is an accredited harp therapist, as it has helped me develop an appreciation of the deeper effects of harp music on health and wellness, and how it can provide comfort to others.
I consider myself extremely lucky to have such a wonderful harp teacher, and I would wholeheartedly recommend her to anyone!
Julie R.